Video Marketing
Using Video Marketing strategically to get more customers or clients to hear your message can be a very effective way to get new business. Taking advantage of the huge opportunity using video marketing channels like YouTube, Metacafe, Vimeo, and others, can drive massive traffic with increased conversions compared with other forms of marketing.
By using video marketing in your business you can craft a message that people are more likely to listen to, rather than expecting them to read a long webpage or article. You get the added benefit of having a visual advantage if potential customers find your video on Google when they are searcher for your products or services. Google will usually show a snippet of the video on the search results page like the one in the image below. Obviously it draws the eye and can get you noticed by people who wouldn't have noticed your message in plain text format.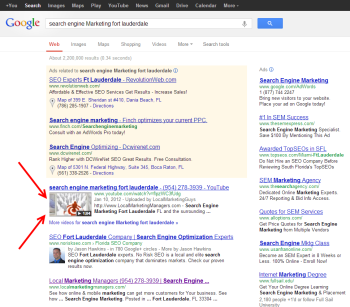 Video Marketing is not only about having a video available for people to watch, but you also need to optimize the video to be found by your target audience, market the video (as the name video marketing implies) and of course make sure the message in your video is something that will actually convert viewers into customers or leads for your business.
Just creating videos that don't engage the customer or have a clear call to action won't do you any good. Having a marketing agency like Local Marketing Managers can help you develop a video marketing strategy that can be effective and also achieve faster results in many cases that traditional SEO.
Find out how a strategic video creation and optimization plan can put you on the 1st page of places like Google and Youtube so that customers find YOU when they search for your product or service online. Contact us today and let us help you reach more customers or clients with video.