Our R4 Marketing Approach
Here at Local Marketing Managers, our marketing approach is radically different from most marketing agencies. Our aim is not selling a 'cookie cutter' product or service to our clients. We work to understand each business and create customized strategies that are targeted to their individual needs. We help businesses grow by implementing and optimizing marketing systems in four critical areas of their business: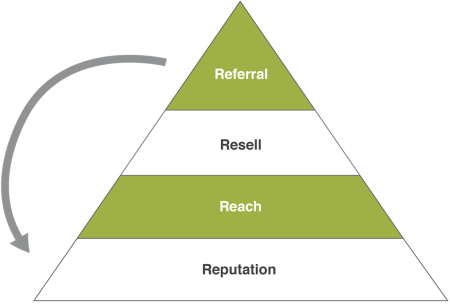 Reputation

Reach

Resell

Referral
Most marketing agencies mistakenly focus on only 1 or maybe 2 of these areas. Although each one is valuable on it's own, we know that businesses can increase their overall growth and profitability on a more consistent basis by focusing on each of these key areas that every business must address.
To help you better understand how we address each of these areas for our clients, we've explained the importance of each in detail below.
Reputation: It's never been easier for people to find out what others are saying about your business online.
Studies show that more and more consumers are using the internet to find out about a business's online reputation BEFORE making a decision to do business with them.
72% of U.S. consumers said they research companies through social channels before making purchases (Society for Communications Research)
Online reviews and ratings are now such an important and growing part of consumer's buying decisions, that a bad reputation (and sometimes having no reputation) online may affect the number of referrals your business receives. Most happy customers don't give people they refer your business's contact information. Typically, they'll only tell them the name of your company, and the person that is being referred is left to look up your business's contact information online. With search engines showing your business's reviews when people search for your business by name, it's easy to see how even referrals can be scared away from a business with a bad reputation online.
Allowing us to create a Reputation Marketing system to make sure your business has a '5 Star' reputation is key in today's marketplace. We can help you become a business that has a 'rockstar' reputation which not only keeps referrals coming in the door, but also allows you to quickly steal your competition's market share. If you have a better online reputation than your competition, people will want to work with you an not them. It's that simple. The opposite is also true. If your competition has a better reputation than you do, they may already be taking your customers.
No matter what you do, people WILL talk about your business online, so the question you need to ask yourself is this: Who do you want to control the conversation? You, your customers, or your competition? Let us help you take control of what people are saying about your business online and protect yourself from the attacks of angry customers, disgruntled employees, and malicious competitors. Don't take this lightly. Make sure you have a plan to control the conversation about your business.
Reach: You need to make sure more people know about your business today then yesterday.
Expanding the Reach of your business to generate more customers is crucial to sustaining revenue growth. We help businesses expand their Reach using strategies such as Google Adwords (pay per click), local search engine optimization, direct mail campaigns, phone campaigns, and email campaigns, to greatly increase the growth of new customers to any business. We understand where these strategies fit into your overall marketing plan and what they accomplish. By tracking results and optimizing your advertising we can help achieve better results for subsequent campaigns.
We know that implementing strategies to grow your business's Reach will get you more customers than depending on past customers coming back on their own or simply hoping for referrals from your customer base. As the R4 framework indicates, we make sure your Reputation is established for potential customers to see because your Reach campaigns will be much more successful when people see all the positive things others are saying about you online. This will drastically increase the ROI for your Reach campaigns, allow you to get better conversions, and possibly even give you the opportunity to charge more for your services since people expect to pay more if they are working with the best business in their industry.
We make sure to target the demographics of your ideal customers in our Reach campaigns to reduce wasted advertising expenses and maximize your ROI. With proper targeting, tracking results, and constant optimization of your campaigns, we are able to help you get the most bang for your advertising buck. Doing this will give you a system that can continue to grow your business month after month with a steady stream of new customers that can take your business to the next level.
Resell: You've spent the time & money to get a new client. Maximize the value of your customer base.
You've probably spent significant resources on your Reach campaigns to get new customers or you've invested in your relationship with existing customers. We can help you create a system that maximizes the value each customer brings to your business. By creating strategic opportunities to resell to your customer base more frequently, cross sell them into other comparable products/services, or creating new streams of revenue in your business, we can create systems to make more money off each customer which most business owners overlook.
Allowing our team to review your existing marketing, your products, sales systems and how often you reach out to your existing customers we can work with you to turn your list of customers into your most valuable asset. Without having a system and procedure in place to do this you're leaving lots of money on the table. It's been said that it costs 7-10 times more money to get a new customer than it does to keep an existing customer. Although most business owners complain about spending too much money on advertising and not getting a good return on their money, few seem to understand how much money they would save if they invested back into their customer base.
Simple things like having a monthly newsletter (print newsletters work best), holiday cards, thank you cards, contests, and the like, can help your customers remember you when it's time to buy again. Having reminders to prompt people to do business with you and giving them reasons to buy more frequently, all work toward increasing the value of each customer. These systems are crucial for long term success, creating larger profit margins, and lowering your CPA (cost per acquisition) for each new customer.
Referral: Customers that are Referred spend more, convert better and shop faster. Having a system in place to get more of them only makes sense.
Let us help you get more referrals systematically. Most business owners agree that getting referrals is key to the success of their business. If you expect even your most loyal customers to remember you at all times, that's asking a lot and giving great service to customers doesn't always equate to referrals. Because this is such an important part of any successful business, just sitting around hoping you get referrals is not an approach we recommend.
"83% of satisfied customers are willing to refer products and services. But only 29% actually do."
Together we can develop a referral system that can be easy to use and work for you day in and day out to encourage your customer base to give you these valuable referrals. Having a system like this in place helps you maximize all your hard work and the effort you put into giving excellent service to each customer. We can help you be one of the few businesses that take a proactive approach to getting more and more business from referrals.
By using simple tactics like rewarding customers for referrals, having a way to contact your best customers on a regular basis to solicit referrals, and engaging them on a deeper level, you can make it easy for people to refer others to your business. Our goal is to make it easy for your happy customers to refer others. It's that simple.
The Arrow in the R4 Framework
As you can see in the diagram, there is an arrow that points from Referral back down to Reputation. This represents the relationship these 4 R's have and the way the work together as a whole in your business. When you have a lot of happy customers referring more people to you, it naturally helps you build your Reputation. This will lead to a larger Reach, more opportunities to Resell, and then more happy customers that you can ask for even more Referrals.
Each R affects the other R's & Your business growth as a whole
To give you another example of how these R's are dependent on one another, unless your business has a 5 star reputation online, you may be spending money on advertising that is less effective, or actually hurting your brand. If you have a poor online reputation and you are spending money on SEO, newspaper ads, tv ads, radio ads, etc. there is a good chance that you may actually be scaring potential customers away. 
Like we mentioned before, many people either look up a business to get their contact info (even if it was mentioned in an ad) and approx. 70% of people now look online for your business's reviews and what others are saying. The more people see those negative reviews, the more they may also warn others not to do business with you if they are asked about what they found. This is why focusing on Reach before Reputation can actually have a negative effect on your business.

70% Of Consumers Only Trust A Business With A Minimum Of 6 – 10 Reviews (BrightLocal.com, Economist.com)
Having 'no reputation' can also cause you to lose money as you can see from the statistic above. If those same people that saw your ads or looked you up online see that there are no reviews about you, then it may not give them the trust they need to feel comfortable doing business with you for the first time. This will make the conversion rate of your Reach campaigns less effective than they would be with a good reputation. This is why the R4 pyramid has Reputation on the bottom and Reach just above it. Understanding how these elements work together maximizes the growth for your business as a whole.
Let us help you grow your business
Please understand our goal for your business is much larger than simply selling you a service that will give you an ROI. At Local Marketing Managers we want to partner with your business and be an advocate for your success.

Our team can handle large and small clients alike and apply tried and true strategies to maximize your business growth. We understand that if you are not profitable after hiring us, we won't be working together for very long. Our aim is to have long term relationships with our clients and grow with them over the years. Our focus is on getting you results. Since we take this approach we don't take on every client that we meet with, and we limit the number of clients we service at any point in time to maintain stellar customer service for existing clients.
Find out how we can help you apply our R4 marketing approach to your business today. Simply fill in the form on this page or call us at (954) 278-3939 so we can get to know more about your business. Don't worry about any high-pressure sales tactics or hassle from our reps. We are happy to speak to you and decide if working together makes sense for all parties involved, no strings attached. We look forward to hearing from you very soon. God bless